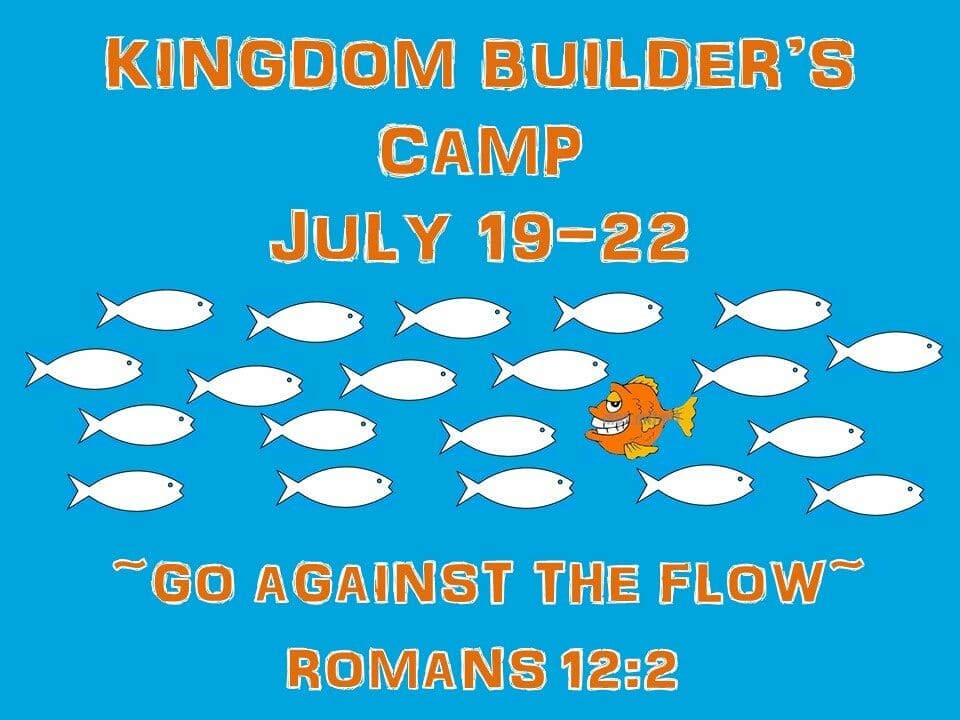 Kingdom Builders Camp 2017
Go Against the Flow
Do not be conformed to the pattern of this world, but be transformed by the renewing of your mind. Romans 12:2
Worship • Bible Study • Swimming • Music • Crafts • Service Projects • Waterslides • Fellowship
Grades 1-6
Cost: $150
Clothes can get dirty. Please bring a bag for dirty clothes.
Towels
Pillow, twin sheets, and blanket or sleeping bag
Poncho or Umbrella
Bible
Tenis shoes and flip flops
Swimsuit - Girls need a one-piece AND cover-up. NO TWO PIECES!
Sunscreen
Mosquito repellant
Daily hygiene items - soap, shampoo, toothpaste and toothbrush
Daily medications, if taken: (Put each day's dose in a separate Ziploc bag and label with your child's name and time taken. Medication will be administration by Camp Director or Registered Nurse.
Money for souvenir shop (optional) - items range from $.50 - $5.
Due to food allergies of other campers, we ask that children do not bring any food. We provide plenty of snacks.
A GREAT ATTITUDE!
Please label every item with your child's name, including clothing and towels! 
Absolutely no electronic items: If it needs to be charged it needs to stay home. 🙂